Below is only a sampling of the unsolicited praise we have received from MedEdits clients and parents about our medical school admissions consulting, residency matching and more.
"I found Dr. Suneja very helpful in terms of interview prep. She is amazing at providing detailed answers and common interview questions. She greatly raised my confidence. Every time I had a question, I only had to post in Basecamp or call the office. MedEdits helped me get into medical school and understand aspects of the application process I never would have known about. My editor was Marian. I found her very helpful as she edited my work with a fast turnaround rate and gave me very good feedback, especially when my first personal statement was nowhere near where it needed to beI chose MedEdits over [competitor] because the "top" people of the company whose names are on the website, namely Jessica Freedman and Randy, were personable and easy to reach. For other companies, I felt like there were too many editors and other people talking to me instead of the founders. I am grateful I received an October acceptance." – Medical School Client
"I got the push notification yesterday afternoon while I was at work, and with one brief glance at the sender and subject line, the weight that has been on my shoulders for years was lifted. It's crazy how much my mindset has shifted now that I have that security net. All is well! I'm overwhelmed with gratitude, and that includes gratitude for the MedEdits team for helping me get here. I was optimistic about my app this year, but I never anticipated getting good news as early as October 15, and y'all are a huge reason for that happening, so THANK YOU!" – Medical School Client going to Duke [Applicant received no interviews the previous year while working with a competitor]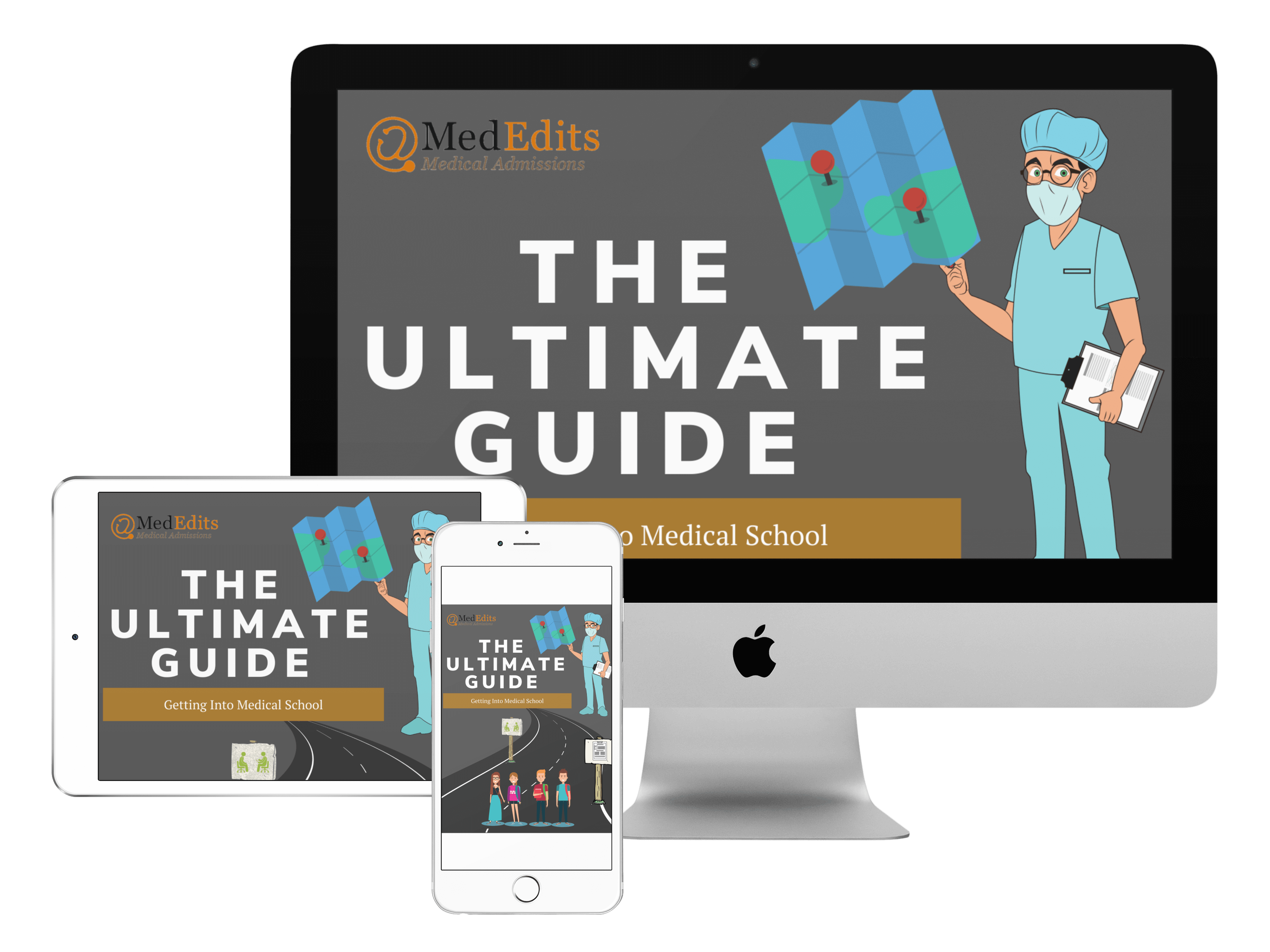 "So it's official…I just sent in my intent to enroll and my deposit and I am now a medical school student! And though this may be a little early in the cycle, I would just like to say thank you for helping me get to this point…I know this will sound cliché, but I couldn't have done it without you guys! I wanted to give an extra shout-out to Dr. Tansey and Rhona for all the help you have given me over the past 9 months or so. I couldn't have asked for better consultants, and I doubt I would have gotten into medical school without your assistance and guidance." Medical School Client Reapplicant
"My wife and I wanted to thank you for all the help you provided our daughter during the last medical school application cycle. Doctor Freedman and team helped her through the interview process, secondary applications, and provided a lot of coaching that helped our daughter get into medical school where she started this past Monday. She applied to 11 schools, got interviews at 8 schools and was accepted by the first 6 schools where she interviewed- you really helped her be successful and we are extremely grateful. Fantastic results from your team and we look forward to her using MedEdits during the residency process. She has decided on Harvard. Thanks again." – Parents of a Medical School Client
"As a non-traditional student I felt that I had a story to tell about my reasons for becoming a doctor. Dr. Freedman and her team transformed that story and motivation into a solid personal statement and secondary essays. When it came time for my interview prep Dr. Freedman's advice was invaluable in helping me tell my story and articulate who I was. As a result of Dr. Freedman's help and guidance I was accepted into my top choice medical school. When I spoke to the Dean of Admission's he directly mentioned that it was my passion for medicine that clearly came across in my writing as well as during the interview that made me stand out as an applicant. My experience with MedEdits was nothing but positive and I really appreciated how timely Dr. Freedman addressed any question I had about the application process. When it comes time for applying to residency I will be using MedEdits!" – Medical School Client
"I start classes this Monday at Downstate and I just wanted to say a quick thank you for everything. Your advice was always succinct, constructive, and extremely helpful. I appreciate everything and I really mean it when I say I couldn't have done it without you". -Medical School Client
"Words cannot explain how fortunate I am to have gotten help from you all. I wanted to finally send you this letter to let you know I MATCHED this year into my number 1 choice. I am officially a newly minted Family Physician. I am SO happy that I could finish this race with your support. If there is ANYTHING I can ever do to repay your help, please let me know. For now, I give you my undisputed gratitude." – Residency Client
"I just wanted to thank you SO incredibly much for ALL of your help during the med school application process.  I was accepted to the Jacobs School of Medicine & Biomedical Sciences (SUNY Buffalo).  I could not have done this without you guys. I would never have even thought to apply to the schools that you recommended (a barrier to the success of my previous application, in addition to my approach to the AMCAS).  You and the MedEdits team helped me understand what medical schools were looking for and showed me how to best poise myself to be competitive." – Medical School Client
"I hope this message finds you and your families happy and healthy. This is a late e-mail after a very eventful semester/summer, but on March 14th, I got accepted to the University of New Mexico School of Medicine. Thank you so much for turning such an unlikely candidate into a medical school student; I know my essays/activities were not easy to edit by any means and it was with the clarity and purpose you brought to my writings that made me an outstanding candidate. I will never take this acceptance for granted nor will I ever cease to work on being more humble, more knowledgeable, more driven, more excellent for my patients, so that I may be an outstanding person in order to be an outstanding doctor. Thank you again!" – Medical School Client
"I heard about MedEdits from my brother, who used your services for help editing his residency application. He is now finishing up his neurosurgery fellowship and considering job offers for next year. He told me that the MedEdits team was very helpful with his application, and even "small" suggestions like changing the order of paragraphs made a noticeable difference in the strength of his essay. I saw the same in my work with MedEdits. My ideas were my own, but the team's editing suggestions were really helpful in making the essay more powerful.
I first sought to work with MedEdits on my personal statement. I was very pleased with my final essay, and as a result also consulted with MedEdits on my activities list and some of my top-priority secondary essays. In each case, I valued the edits provided and was impressed how even changing a few words around or a sentence structure could make a difference.
MedEdits was also helpful in providing suggestions to condense my essay. Given that I had several stories/experiences I wanted to convey in my essay, my first few drafts were above the word count, and I was worried whether my final essay would be effective in a more condensed format. MedEdits was very helpful in this regard, and I noticed how oftentimes brevity helps sharpen clarity and one's writing.
I think any med school applicant could benefit from working with MedEdits. The admissions process is a long process, and it only helps to consult with other people and obtain feedback. I also met regularly with my undergraduate's health professions advising office, and had copies of my essays read by family and peers. I appreciated MedEdits' help with my essays and application, but I am sure that applicants in earlier stages of the process would find a conversation with MedEdits helpful, whether it is to help map out their pre-med adventure, discuss how to overcome weaknesses in their application, or receive general advice on the application process. I found all the staff I worked with to be knowledgeable and caring and recommend their services.
At this time, I have completed all the interviews for which I received an invite. I am waiting on their decisions (Columbia, Johns Hopkins, Harvard, Penn, Robert Wood Johnson, NYU, Mt. Sinai, WashU, Cornell, BU, Yale). I know that some of these will not release until March." (Student matriculated at Johns Hopkins). – Medical School Client
"I matched  for Radiology (#1 choice!)! I am incredibly thrilled, and wanted to thank you and your whole team for your help in making my application and interview season the best it could be. Ever since our strategizing chat all the way back in the midst of hurricane sandy (wow that does seem like a while ago) you've given me incredible advice that I believe played a large role in putting me in the position I am in today. Of course I also have to acknowledge and thank you again for your advice that guided my second and successful application to medical school all the way back in 2010. Your services and advice are SPOT ON and thank you again for you and you r teams hard work and assistance!" –Residency & Residency Client
"Thank you so much for helping my son last year with his Six Year Med Program.  He is very happy to get his first choice. He already finished his first year. My husband and I just like to say thank you so much for the work you are doing to help young people. God bless you and keep you HAPPY AND HEALTHY so you can keep working.  THANKS AGAIN."
–Parent of BS/MD Client
"Thank you for helping me get to this point, I could not have done it without you. It has been a blessing to have your counsel and encouragement. To think that you do the same for so many other aspiring physicians is quite inspiring to me."
–Medical School Client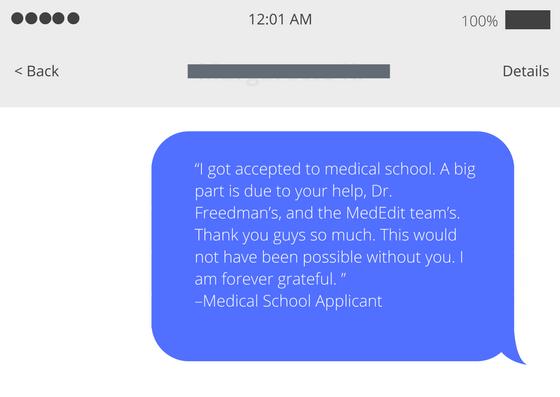 "I matched in radiology! Thank you so very much for all your help.  I know I couldn't have survived the whole process without your help, especially since I was going for such a competitive specialty. If you ever need a reference, I will be more than happy to be one."
–Residency Client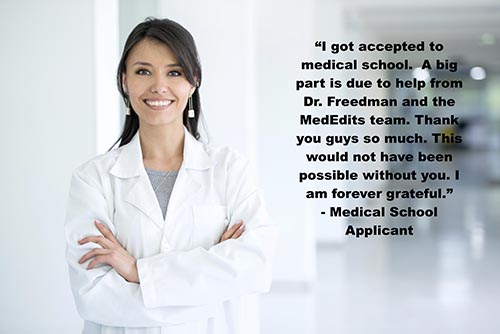 Our medical school admission consultant reviews reflect our intensity and commitment to students.
"I am pleased to report that I was accepted into Bryn Mawr, which was my top choice for postbacc programs to attend. I'm very excited and owe you a big thanks for your assistance in helping me prepare for the interview. As I look to my med school applications, I would love to pick your brain and ask for your advice on applying once again."
–Post baccalaureate Client
"I believe it was all because of your step by step guidance and coaching/mentoring that you provided [my son] over the course of the year, on how to put his best foot forward in various situations that he has had success. He now has acceptances from a number of medical schools and will soon make his choice. I am very appreciative of your help for him during the process and thank you for all you did for him…Thanks in advance, and I hope [my son] will turn back to you when he is starting to think about residency programs etc. Once again, thank you so very much and let me know if there is anything I can do for you."
–Parent of Medical School Client